Yesterday was a hoot. I embarrassed myself beyond all reasonable doubt, but instead of blushing and beating up on myself, I am laughing every time I think of it.
So ... I head into the office yesterday, and it was just me and my shadow. I plugged myself into the iPod, armed with a blue ink pen and a stack of files, and started signing and singing. I danced with the red file cart as I moved the files over to the copy machine. Since no one was there, I removed the damn denture that is the bane of my existence, and felt totally comfortable and productive.
Until I turned to head down the hall and came face-to-face with a CBC employee, who had also come in to catch up on a project. Big smiles, exchanged hellos, but when she started to introduce me to her husband, I found an excuse to duck back into my office to reseat that pesky denture. Only then did I head out to shake hands.
Once she walked down to the conference room to set up, I went back to singing and signing - singing softly, signing with a flourish - but no more dancing with the red cart. I still have a shred of dignity left, you know.
Or I did until I got home, having stopped at Publix on the way to pick up a few minor items.
Okay, let me stop here and take a sharp 180 degree turn to discuss one of my odd passions - old buildings. Maybe I was an architect or an archeologist in another life. All I know is that I am fascinated by anything that was built more than a century ago, like the New York City subway system, the French Quarter in New Orleans, and the Osceola County Courthouse. I can sit for hours, staring at old photos (or even better, the real thing), admiring styles of architecture long out of vogue. I am crazy for tunnels, especially if a train can run through it. I love to try to figure out where the tunnels go. Hallways are like tunnels, which is why I was probably the only person alive who was saddened when the first step in restoring the old courthouse was to pull down the annexes with their crazy quilt of secret passages, hidden offices, and the world's strangest wheelchair lift. The probate clerks had their office tucked in at the juncture of the old courthouse and the second annex (where the courtrooms and the world's worst restrooms were located) at sort of a half level, so you had to step up to step down to see them, and it was easier to stand at the door and hand them the paperwork. The juvenile department was tucked under the front steps, and their ceiling sloped accordingly. Being claustrophobic, I would have lasted about 20 minutes. One of my regrets is that I never got any pictures of this collection of odd additions slapped onto the old courthouse over a period of 60 years. Apparently, neither did anyone else, because while there is a decent collection of photos of the original courthouse, circa 1915, and the restored courthouse, circa 2001, there is little in between, darn it. So much for urban exploration.
If you look very carefully at the left side of this photo, behind the oak trees, you can see bits of another building there. That was the entrance into the second annex, and depending if you walked straight, turned right at the end of that hall, or made a sharp right when you first walked in, you could end up in one of three different buildings.
The "wart" on the historic Osceola County Courthouse is almost gone. For weeks, crews have been knocking, banging and tearing down the ugly one-story annex that was grafted onto the original three-story Romanesque Revival structure built in 1889. Earlier in the week, most of the east side of the annex was still standing. But in what seemed like a blink of an eye, everything was down Thursday. All that's left is a massive pile of rubble and a few pieces of the old brick walls that are still standing.
Apparently the Orlando Sentinel does not share my enthusiasm for historical oddities. Just because it wasn't pretty - and it wasn't - doesn't mean it wasn't interesting fascinating.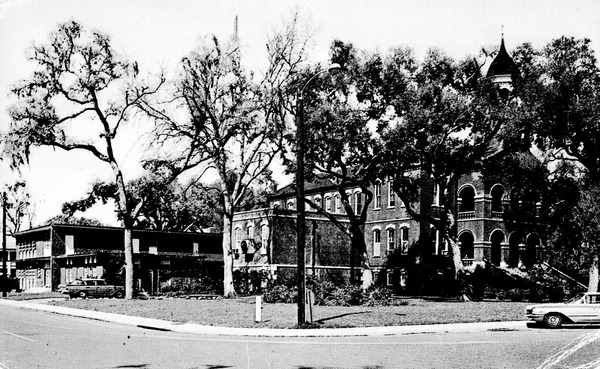 This one is a good shot of the first annex and the old jail, before the second annex was conceived and constructed by someone who had clearly done too much LSD in the sixties, after smoking too much marijuana with Robert Mitchum in the forties. That second annex - the aforementioned "wart" - was built so as to wrap around and connect everything on that side of the street. It was bizarre and beautiful. I miss it, although I do not miss the crappy restrooms, or the old holding cells on the second floor.
Late at night, when my insomnia is in full swing, I spend a lot of time online at sites like Forgotten NY and
this one
, the Florida Memory Project. There are great photos from all over the state, starting from the late 1890's to the present day. This next photo, taken on January 19, 1912, is disturbing, at several levels, and addresses sensitive issues of state executions and racism. This is a photo of the last execution to ever take place at the Osceola County Courthouse, the execution of Eddie Broom (or Broome).
I'm not here to discuss capital punishment, which I have come to oppose, or the questionable treatment of this particular individual, an African-American accused and convicting of shooting a white man to death. (It wasn't a lynching, but let's just say there was no time for a lengthy appeal.) I want to discuss the location of the hanging, because it drove me crazy for several nights. And because I get a cheap thrill from standing in close proximity to history.
Or sitting. You can't imagine how many times I strained my neck trying to catch a glimpse of this abandoned station from the warm safety of an overcrowded A train as it rumbled its way towards Brooklyn.
But before any more historical blathering, let's lighten the mood and finish the story of my dearth of dignity.
So I finish making my purchases at Publix and head home. Mind you, I've been plugged into the iPod the whole time, grooving with the music. Smiling and nodding at people I know, but not stopping to chat since I couldn't hear anything. Happy as a clam. Got home, greeted my husband, turned to put away my purchases in the kitchen, only to hear him say,
"Bear, did you know you have toilet paper hanging from the back of your pants?"
Oh yeah, apparently I did, and I can't tell you how long I'd been wearing that unintended accessory, except I am certain I had it on the entire time I was shopping at Publix.
Oy vay. I've been shopping at the same Publix for close to 20 years, and all those people too polite to tap me on the shoulder. I may have to start grocery shopping at Walmart. It seems I'm already turning into a
walmartian
. No no no, just kidding. Besides, I always keep the denture in while I'm shopping in Walmart. I'm bad, but I'm not hopeless.
Gotta laugh, right? Because it is certainly funnier that the FIVE SEPARATE TIMES I had to frog back big chunks of the dishcloth I am knitting, from a pattern I designed named "Breaking Up is Hard to Do." I may just have to rename it "Breaking Bad."
Comedy break is over, back to history.
Thursday I walked the entire perimeter of that darn courthouse, trying to see where the scaffold had been contructed. (I think I frightened the guardian ad litem who happened to see me walking and staring and likely muttering to myself.) Because clearly the unfortunate Mr. Broom had NOT been dispatched to his Great Reward from the end of a rope strung over the infamous Hanging Tree.
KISSIMMEE — Legend has it that one of the old giant oak trees in front of the Osceola County Courthouse was used as a hanging tree. It is one of the tough-looking trees on the north side of the courthouse facing Vernon Avenue -- the one with the notches along some heavy branches. The story goes that each notch stood for a person who was hanged.
Hanging trees?
The facts are in dispute. Although official death sentences were carried out from temporary scaffolds erected alongside the courthouse, some longtime residents say no one has ever been strung from a tree on the grounds. Such talk, they say, is the product of embellished folklore.
Darn. And here I thought it prophetic that the Hanging Tree survived the destruction wrought by the 2004 Hurricane Trifecta. I know the roof of my office on Bryan Street didn't ...
It took me another day to figure it out. I was so sure that the hanging took place at the front of courthouse, albeit not from the hanging tree, that I couldn't see the ... well, the forest for the trees. And then I saw it, and I had to photograph it. Which I did yesterday on my way to the office.
Scroll back up, and you'll see it too. The only differences are that the drainage pipe has been moved to the end of the brick wall, and there are no spectators hanging out the windows. And the best part (for me, not Eddie) was that I was obviously standing on the top of the same stairway used by the 1912 photographer to capture the moment.
Northwest corner of the courthouse. You can see clearly that the scaffold was constructed with it's floor at a level just above the first floor windows to provide sufficient height for ... well, I'll leave that as a lesson for the student.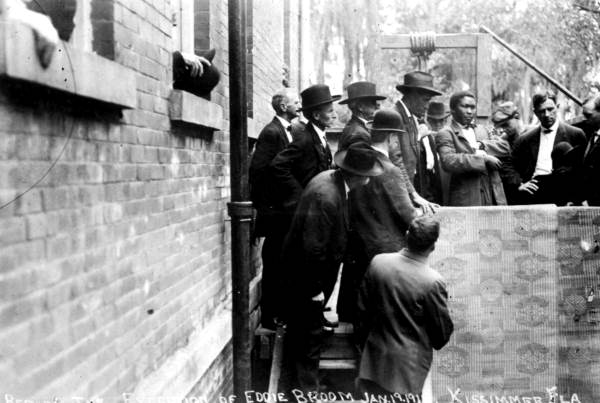 If anybody is interested, I did prepare something I am calling chicken piccadillo. Publix had boneless and skinless chicken breasts on sale for $1.99 a pound, and I was NOT passing that up regardless of the two-ton lasagna in my refrigerator. It turned out quite tasty, and I will post the recipe real soon.